Ages 6 years and up
If you like to do all the tricks this class is for you. Students will learn strength and flexibility that will enable them to perform acrobatic moves such as splits, walk overs, backwards rolls, flips and many more! Being flexible is very important for dancers and the stretch element in this class will help with your other dance styles.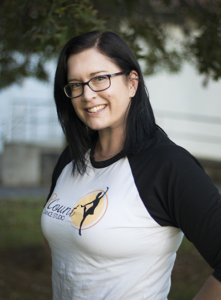 For nearly 10 years Rebecca has been working as an Administration and Marketing Officer for a not for profit organisation based in Manukau City. She has two girls aged 16 and 14 who are current 8Count students. Rebecca was the owner and head coach of Red Hot Cheer, a cheerleading, dance & tumble gym in Pukekohe for 5 years.
Rebecca trained mainly the Level 4 Cheer Team and an Open Pom Dance Group for Red Hot, which achieved amazing results within New Zealand and at International competitions.
This is Rebecca's third year teaching Acro / Stretch at 8Count. Her passion is to teach children to strive to accomplish their goals through encouragement and thoroughly enjoys being a part of each stage of their achievements.