Ages 5 year and up
Tap is a great dance style for those who like to make noise!
Students will learn tap rhythm steps and combinations. Dancers wear special shoes with metal toe and heel plates and strike the floor as a form of percussion. We teach the NZAMD Tap syllabus and offer exams for those who wish to sit and an adult's open class.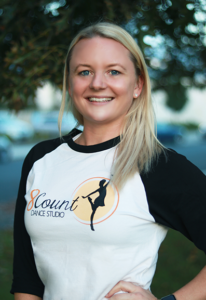 Sarah originally hails from Dunedin where she started tapping from the age of 4. After moving Auckland with her family she studied jazz and contemporary and started teaching exam and performance work for 8count as well as continuing to compete in Tap.
Throughout Sarah's career she competed successfully in both Tap and Jazz around New Zealand. Highlights have been attending PACANZ Tap Nationals twice and finishing in the top 6 and being selected to attend the NZAMD Scholarship where she won the Tap section.
Sarah has passed all her NZAMD Tap exams with distinction and was a demonstrator in the Level 9 Tap Exam DVD.
Sarah has been teaching for 8count for over 10 years and strives for the best out of every one she teaches.