Ages 8 years and up
This is a style of expressive dance that combines elements of several dance genres. Students will learn use their bodies in its natural form through using momentum, release and breath. We teach the NZAMD Contemporary syllabus and offer exams for those who wish to sit.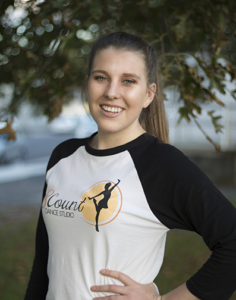 Charlotte began dancing at 8count aged 5 learning jazz, and dance has been her passion ever since.
She picked up contemporary at 11 and has achieved top marks in all her exams from Rosette One to Advanced Jazz and levels two to five contemporary as well as performing at events and competitions across Auckland in the junior and then senior jazz performance groups.
Charlotte has been teaching for two years, first jazz and then contemporary and loved it. She enjoys helping younger dancers to develop their skills and seeing them improve to master things they have struggled with.
Charlotte continues to study jazz and contemporary and wants to keep dancing and teaching dance to others for as long as possible.