Ages 5 years and up
Our most popular style of dance that is fun and energetic to pop music. Students will learn to turn and leap along with intricate arm and footwork which will all help with technique, flexibility and versatility.
8Count follows the NZAMD (New Zealand Association of Modern Dance) Jazz Syllabus. Dancers learning the NZAMD syllabus will work towards sitting exams in Term 3. However, for those who wish to dance but not sit exams we offer open classes. Oh, and we can't forget about the adult classes so parents it's never too late to start dancing yourselves!
Sarah originally hails from Dunedin where she started tapping from the age of 4. After moving Auckland with her family she studied jazz and contemporary and started teaching exam and performance work for 8count as well as continuing to compete in Tap.
Throughout Sarah's career she competed successfully in both Tap and Jazz around New Zealand. Highlights have been attending PACANZ Tap Nationals twice and finishing in the top 6 and being selected to attend the NZAMD Scholarship where she won the Tap section.
Sarah has passed all her NZAMD Tap exams with distinction and was a demonstrator in the Level 9 Tap Exam DVD.
Sarah has been teaching for 8count for over 10 years and strives for the best out of every one she teaches.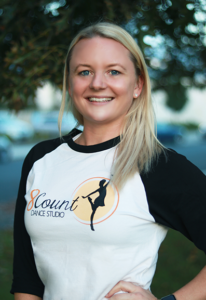 McKenzie Northcott
Mckenzie has been dancing at 8Count, formerly known as Nicky's School of Dance, since she was 4.
She has sat and achieved high marks in all of her exams right from Rosette One to Intermediate Jazz and now has the desire to teach other students who wish to do the same.
She student taught with Sarah for 2 years in Rosette Three Jazz and Grade 3 Jazz with great enthusiasm before taking on the challenge of becoming a teacher in 2017, teaching Rosette 3 and Grade 1 Jazz.
Right from a young age Mckenzie has been a part of performance groups competing all around Auckland.
Mckenzie continues to find time out of her busy schedule to teach and pass on her knowledge to future dancers at 8Count Dance Studio.