Ages 5 years and up
Our most popular style of dance that is fun and energetic to pop music. Students will learn to turn and leap along with intricate arm and footwork which will all help with technique, flexibility and versatility.
8Count follows the NZAMD (New Zealand Association of Modern Dance) Jazz Syllabus. Dancers learning the NZAMD syllabus will work towards sitting exams in Term 3. However, for those who wish to dance but not sit exams we offer open classes. Oh, and we can't forget about the adult classes so parents it's never too late to start dancing yourselves!
Sarah Lawson
Sarah originally hails from Dunedin where she started tapping from the age of 4. After moving Auckland with her family she studied jazz and contemporary and started teaching exam and performance work for 8count as well as continuing to compete in Tap. Throughout Sarah's career she competed successfully in both Tap and Jazz around New Zealand. Highlights have been attending PACANZ Tap Nationals twice and finishing in the top 6 and being selected to attend the NZAMD Scholarship where she won the Tap section. Sarah has passed all her NZAMD Tap exams with distinction and was a demonstrator in the Level 9 Tap Exam DVD. Sarah has been teaching for 8count for over 10 years and strives for the best out of every one she teaches.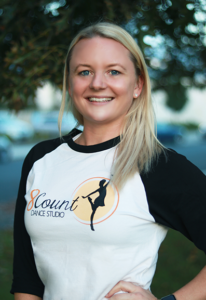 McKenzie Northcott
Mckenzie has been dancing at 8Count, formerly known as Nicky's School of Dance, since she was 4. She has sat and achieved high marks in all of her exams right from Rosette One to Intermediate Jazz and now has the desire to teach other students who wish to do the same. She student taught with Sarah for 2 years in Rosette Three Jazz and Grade 3 Jazz with great enthusiasm before taking on the challenge of becoming a teacher in 2017, teaching Rosette 3 and Grade 1 Jazz. Right from a young age Mckenzie has been a part of performance groups competing all around Auckland. Mckenzie continues to find time out of her busy schedule to teach and pass on her knowledge to future dancers at 8Count Dance Studio.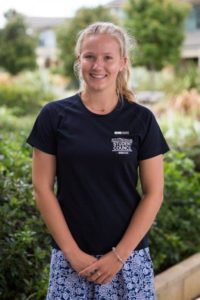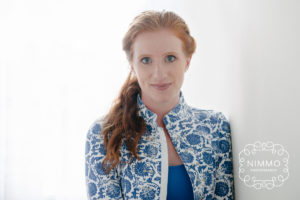 Jennifer Loef
A recent Bachelor of Dance Studies graduate from the University of Auckland, Jennifer has a life-long passion for dance. Jennifer started dancing at the age of 3 and has never looked back. Over her dancing career Jennifer has taught, performed and choreographed in a variety of studio and community dance settings both in New Zealand and overseas. Jennifer completed NCEA level 1, 2 & 3 Dance gaining 'Academic Excellence' in each.
Alongside this she has competed and placed in various competitions in New Zealand, Australia & the USA. Notably receiving 'highest scoring act' and 'judges award for outstanding choreography' at the 2009 Regional South Island of New Zealand Showcase dance finals. After completing her NZAMD Jazz and Contemporary training to the highest level (and BBO Ballet to Advanced 1) Jennifer owned and operated her own successful Dance Studio from 2011-2012. Closing her dance studio at the start of 2013 Jennifer moved to the United States for two years to work for a non-profit organisation teaching dance. While there she completed a 1-year internship in 'Leadership Dynamics in Dance' and toured with the Axios Dance Company for three seasons.
Upon moving to Auckland in 2017 to complete her studies, Jennifer has had the opportunity to perform, choreograph, teach, and stage manage a variety of events with the University of Auckland both in New Zealand and Asia. Jennifer is passionate about creating a positive and safe dance environment where excellence and fun thrive, and where students can discover freedom, joy and connection through movement.